View cart
"MRD | Micro Red Dot (Includes Riser)" has been added to your cart.
MCK | Micro Conversion Kit + Flashlight Adaptor for OWB, Glock, and Micro Conversion Kit
Follow Us:
*You cannot use coupons in conjunction with this sale.
*Not compatible with Gen1 & Gen2 models of Glock
*Flip-up Sights, and Thumb Rests not included
Frequently Bought Together
MCK | Micro Conversion Kit:
PLEASE NOTE: THIS PRODUCT DOES NOT INCLUDE, THUMB RESTS, SIGHTS, SLING SWIVEL OR SLING. ACCESSORIES AVAILABLE VIA ADVANCED KIT OR AS INDIVIDUAL PRODUCTS. NO NFA REQUIRED FOR STABILIZERS, NO TAX STAMP REQUIRED.
More:
The extended stabilizer, which now comes standard, enables one-handed firing for better shooting performance. It also comes with a Velcro® strap fastener which provides a custom fit to any user. MCK is the most cost effect conversion kit in the world. Fastest assembly/disassembly conversion kit on the market. Improving accuracy dramatically up to 200 yards. We are the exclusive licensee of the SB tactical stabilizer brace for the handgun conversion kits.

Top Features:
No pistol disassembly required – Just place pistol into the kit, lock, and go
Allows for multiple handgun models into one platform
Ergonomic Finger Groove Grip for more stability
Top Picatinny rail, allowing a combination of sights and/or optics
Side Picatinny rails for mounting additional accessories, i.e… thumb-rests
Ambidextrous, fast and easy handling
Right-folding stock/arm brace for easy concealment and carry, locks in the folded position
Front spare magazine holder for a faster reload
Built-in charging handle allowing for quicker assembly/disassembly
Exposed slide release for direct contact and easier use
MCK Measurements:
Width: 2.48″
Height: 5.70″
Length: 13.70″
---
| | |
| --- | --- |
| Handgun Model | Glock 17/19/19X/22/23/31/32/45, Glock 20/21 |
| Color | Black, White, Tungsten (Gray), ODG (Green), FDE (Tan) |
| Advanced Kit | No Advanced Kit, Advanced Kit |
| Stabilizer | Extended Stabilizer, NFA Stock |
MCK Gen 1 Selector
| | |
| --- | --- |
| Weight | 5 lbs |
| Dimensions | 17 × 8 × 7 in |
| Handgun Model | Glock 20/21, GLOCK G17 G19 G19X G22 G23 G25 G31 G32 G45, Sig Sauer P320 9mm/.40 cal Full, Compact, and Carry |
| Stock | Gen 2 Stabilizer (Add 20), NFA Stock, Short Stabilizer, Stabilizer, TAC |
| Top Picatinny Rail | Aluminum (Add 35), Polymer |
| Color/Pattern | Black, Green – ODG, White, Tan – FDE, Grey – Tungsten, Blue, Orange, Red, Pink, Clear (Add 25), True Timber (Add 100), True Timber Viper (Add 100), Mossy Oak (Add 100), Real Tree (Add 100), Multicam Black (Add 120), USA Patriot (Add 125) |
MCK 3 in 1 Flashlight Adaptor + Flashlight
| | |
| --- | --- |
| Weight | 1 lbs |
| Dimensions | 8.5 × 12 × 2 in |
| Flashlight Option | With Flashlight, No Flashlight |
Compatibility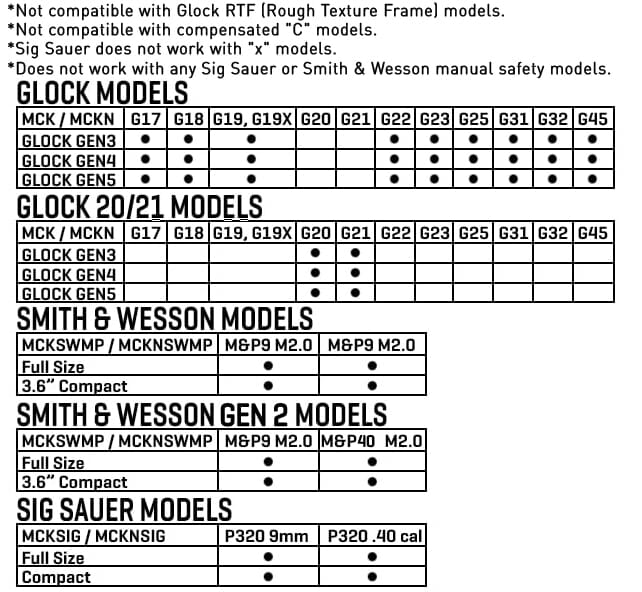 Disclaimers
WARNING: Observe safe firearm handling practices at all times. Failure to do so may result in serious bodily injury or death. CAA USA shall not be responsible for injury, death, or property damage resulting from faulty installation, misuse, illegal use, or modification of this product.
Only logged in customers who have purchased this product may leave a review.