View cart
"One Point Sling + Push Button, Quick Detach Sling Swivel" has been added to your cart.
MCK Handle Grip kits from Handleitgrips
Follow Us:
* MCKHGGEN2 works with these models: MCKGEN2, MCK34/41GEN2, MCKP80, MCK21GEN2
Frequently Bought Together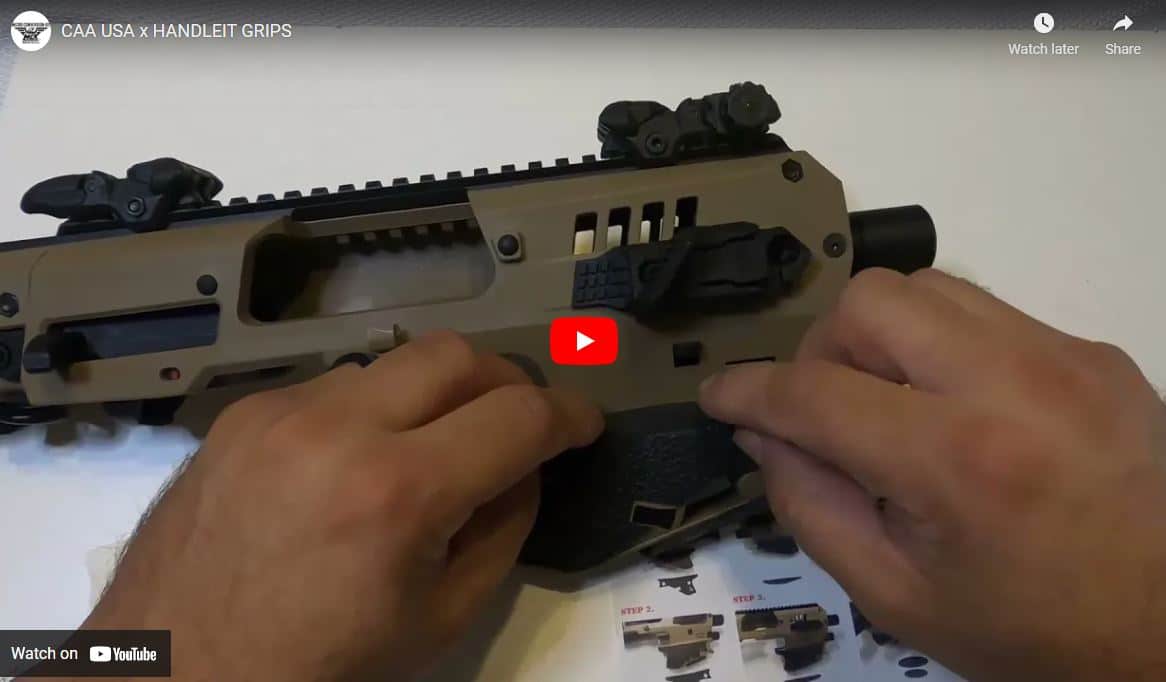 The HANDLEITGRIPS are designed to custom fit your specific MCK and provide outstanding grip, comfort, and control of the platform. The enhanced rubber grips improve accuracy, control, and recoil management.
For the MCK fans that are always looking for the next add-on, our new grips will provide a contrast to and break up the look of your MCK while also being very practical. HANDLEITGRIPS will give you a better grip on your conversion kit in any terrain or weather conditions!
Easy to install, the grip enhancement can be fully installed within 7-10 minutes!
Just like our Micro Conversion Kits, these HANDLEITGRIPS are 100% Made in the USA!
We, at CAA USA, are honored to be the exclusive seller of the MCK HANDLEITGRIPS.
| | |
| --- | --- |
| Weight | 1 lbs |
| Dimensions | 8.5 × 12 × 2 in |
| MCK Model | MCKHG – (Gen1) MCK for Glock 17/19, MCKHG21 – For (Gen1) MCK Glock 20/21, MCKHG26 – (Gen2) for Glock 26/27, MCKHG43 – (Gen2) for Glock 43/48, MCKHGGEN2 – (Gen2) MCK for Glock 17/19, 20/21, 34/41 & P80, MCKHGS&W – For S&W M&P 1.0 & 2.0, MCKHGSA – For Springfield SA9/SA45, MCKHGSD9 – For S&W SD9, MCKHGSHIELD – For S&W Shield, MCKHGSIG – For SIG P320, MCKHG29 – (Gen2) MCK for Glock 29/30, MCKHGCZ07 – for CZ 07/09/10 |
Only logged in customers who have purchased this product may leave a review.