MCK GEN2 | Micro Conversion Kit GEN2 (17/19) + Brass Catcher
SAVINGS OF $20.95
*Only Select option 2 in the Model Menu below if you have a Glock 22 GEN5 or Glock 23 GEN5
*Flashlight, Flip-up Sights, and Thumb Rests not included
MCK | Micro Conversion Kit:
More:
The extended stabilizer, which now comes standard, enables one-handed firing for better shooting performance. It also comes with a Velcro® strap fastener which provides a custom fit to any user. MCK is the most cost effective conversion kit in the world. Fastest assembly/disassembly conversion kit on the market. Improving accuracy dramatically up to 200 yards. We are the exclusive licensee of the SB tactical stabilizer brace for the handgun conversion kits.

Top Features:
No pistol disassembly required – Just place pistol into the kit, lock, and go
Allows for multiple handgun models into one platform
Ergonomic Finger Groove Grip for more stability
Top Picatinny rail, allowing a combination of sights and/or optics
Side Picatinny rails for mounting additional accessories, i.e… thumb-rests
Ambidextrous, fast and easy handling
Right-folding stock/arm brace for easy concealment and carry, locks in the folded position
Front spare magazine holder for a faster reload
Built-in charging handle allowing for quicker assembly/disassembly
Exposed slide release for direct contact and easier use
MCK Measurements:
Width: 2.48″
Height: 5.70″
Length: 13.70″
---
| | |
| --- | --- |
| Handgun Model | Glock 17/19/19X/22/23/31/32/45, Glock 20/21 |
| Color | Black, White, Tungsten (Gray), ODG (Green), FDE (Tan) |
| Advanced Kit | No Advanced Kit, Advanced Kit |
| Stabilizer | Extended Stabilizer, NFA Stock |
MCK GEN 2
| | |
| --- | --- |
| Model | Glock 17/19/19X/22/23/25/31/32/45 (does not fit Gen 5 Glock 22/23), ONLY Fits Glock 22/23 Gen 5 |
| Stabilizer | Gen 2 Stabilizer, NFA Gen 2 Stock, Short Stabilizer |
| Color | Black, White, FDE (Tan), ODG (Green), Tungsten (Grey), Orange, Red, Blue, Pink, Clear (+ $25) |
BRASS CATCHER FITS ONLY MCK GEN 2 17/19/19X/22/23/25/31/32/45
| | |
| --- | --- |
| Brass Catcher | MCK GEN 2 17/19/19X/22/23/25/31/32/45 and MCK GEN2 20/21 |
Compatibility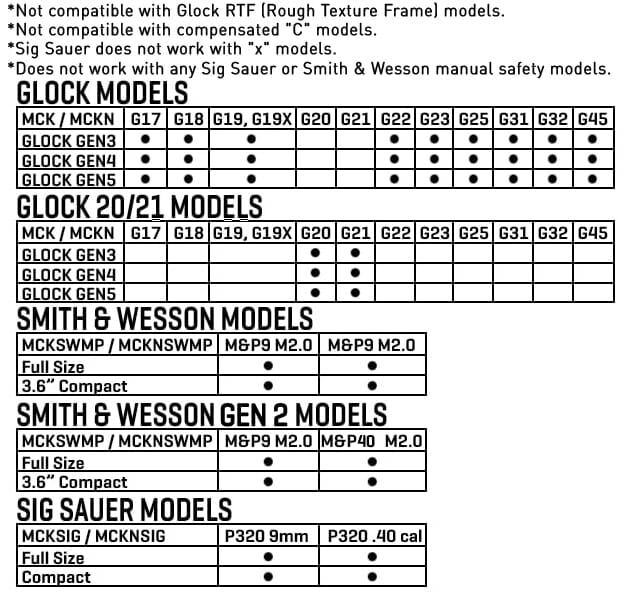 Disclaimers
CAA USA DOES NOT SHIP INTERNATIONALLY, USA & USA TERRITORY ONLY!
WARNING: Observe safe firearm handling practices at all times. Failure to do so may result in serious bodily injury or death. CAA USA shall not be responsible for injury, death, or property damage resulting from faulty installation, misuse, illegal use, or modification of this product.
Wear Issue: Due to the nature of our products and the act of inserting your handgun into it, we are not responsible for witness marks the kit may leave on your handgun.
EXPORT NOTICE: This is an item controlled for export by the International Traffic in Arms Regulations (ITAR). These controls take the form of export regulations and license requirements.
As part of the express consideration provided for receipt of CAA's goods, technical data and/or services, you, our customer, acknowledge that the export, re-export or other transfer, directly or indirectly, of the goods, technical data and/or services provided by CAA in violation of U.S. law is prohibited. Customers acquiring ITAR goods, technical data and/or services from CAA shall be responsible for obtaining any necessary U.S. or other government authorization required to ensure compliance with applicable export laws.
Only logged in customers who have purchased this product may leave a review.