MCKSA9 | MICRO CONVERSION KIT SPRINGFIELD ARMORY XD9 (SPRINGFIELD 9MM/40) + Flashlight + Thumb Rests
*Flip-up Sights, not included
The new MCK for the Springfield Armory XD9 is here! This is the first time we have ever been able to make an MCK adjustable to 4 different barrel lengths. The World Famous MCK is now available for Springfield Armory XD, XD mod.2, XDM & XDM Elite. The most popular range gun accessory has finally met up with the Springfield.
All of the Advantages of the MCK for your Springfield Armory XD9:
Fits 13 Different XD9 handgun models.
Comes with 4 Charging Handles & 2 Gun doors, to accommodate different slide serrations.
Equipped with the MCKGEN2 Stabilizer, which allows firing while folded and locked.
Front spare magazine holder for faster reloads.
Comes standard with aluminum top picatinny rail.
No pistol disassembly required—just place pistol into the kit, lock and go.
Ergonomic Finger Groove Grip for more stability.
Side Picatinny rails for mounting additional accessories, i.e…thumb rests, laser.
Ambidextrous charging handle for fast and easy handling.
Right-folding stock/arm brace for easy concealment and carry, locks in the folded position
Exposed slide release for direct contact and easier use
| | |
| --- | --- |
| Handgun Model | Glock 17/19/19X/22/23/31/32/45, Glock 20/21 |
| Color | Black, White, Tungsten (Gray), ODG (Green), FDE (Tan) |
| Advanced Kit | No Advanced Kit, Advanced Kit |
| Stabilizer | Extended Stabilizer, NFA Stock |
*NEW* MCKSA9 | MICRO CONVERSION KIT SPRINGFIELD ARMORY XD9 (Springfield 9mm/40)
| | |
| --- | --- |
| Weight | 1 lbs |
| Handgun Model | Springfield 9mm/40 |
| Stock | Gen 2 Stabilizer, NFA Stock, Short Stabilizer |
| Color | Black, White, Green, FDE (Green), Tan, Tungsten, Red, Blue, Orange, Pink, Clear +$25 |
MCKTHR | Thumb Rests
| | |
| --- | --- |
| Weight | 0.009 lbs |
| Title | Default Title |
Flashlight or Laser
| | |
| --- | --- |
| Flashlight or Laser | 500 Lumens Flashlight, Green Laser, Red Laser |
Compatibility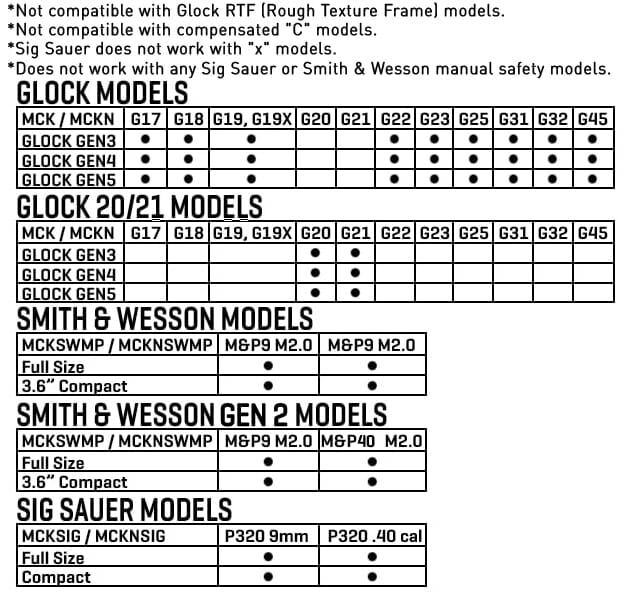 Disclaimers
CAA USA DOES NOT SHIP INTERNATIONALLY, USA & USA TERRITORY ONLY!
WARNING: Observe safe firearm handling practices at all times. Failure to do so may result in serious bodily injury or death. CAA USA shall not be responsible for injury, death, or property damage resulting from faulty installation, misuse, illegal use, or modification of this product.
Wear Issue: Due to the nature of our products and the act of inserting your handgun into it, we are not responsible for witness marks the kit may leave on your handgun.
EXPORT NOTICE: This is an item controlled for export by the International Traffic in Arms Regulations (ITAR). These controls take the form of export regulations and license requirements.
As part of the express consideration provided for receipt of CAA's goods, technical data and/or services, you, our customer, acknowledge that the export, re-export or other transfer, directly or indirectly, of the goods, technical data and/or services provided by CAA in violation of U.S. law is prohibited. Customers acquiring ITAR goods, technical data and/or services from CAA shall be responsible for obtaining any necessary U.S. or other government authorization required to ensure compliance with applicable export laws.
Only logged in customers who have purchased this product may leave a review.